A New Look at Endometriosis and Infertility
Endometriosis is estimated to affect 500,000 women in Australia. This is probably an underestimate as approximately 40% of asymptomatic women with infertility will be found to have endometriosis at laparoscopy1.
Symptomatic endometriosis causes a significant impact on quality of life2. It also causes a significant burden to the economy, estimated to be $6 billion dollars per annum in Australia. One third of this is the cost of medical care and two thirds due to lost productivity. The average woman with symptomatic endometriosis loses 10.4 hours per week in lost productivity. This puts endometriosis right up there on a par with diabetes.
Symptomatic endometriosis may present with period pain, pain with sex, bowel pain or variations of these symptoms. Worsening of symptoms with menstruation is almost invariably a feature
For many women, there is still a significant delay in diagnosis. In many countries, this is still around eight years. When women complain of gynaecological symptoms, they deserve to be taken seriously3.
In this commentary I will concentrate mainly on the impact of endometriosis on fertility.
What investigations should a GP perform when a woman presents with symptoms suggestive of endometriosis and infertility?
The most valuable investigation is a high quality specialised gynaecological ultrasound. Specialised ultrasound services have become increasingly reliable at diagnosing deeply invasive endometriosis, especially disease involving the bowel. They also provide information about whether organs appear to be affected by adhesions and most importantly, they will diagnose ovarian endometriosis with great accuracy.  They will also report an antral follicle count (the number of eggs starting to develop in any one cycle), which is one measure of ovarian reserve (the likely responsiveness of the ovary to stimulation in an IVF setting). The value of such scanning was highlighted in an Editorial in a recent issue of the Australian and New Zealand Journal of Obstetrics and Gynaecology4. These issues are not reported in standard radiological ultrasounds.
Another important investigation is an Anti-Müllerian Hormone (AMH) assay which is currently considered to be the most robust measure of ovarian reserve. It is important to understand that this assay does not provide information about natural fertility.
A CA-125 level may also be helpful. In the absence of ovarian pathology on a specialized scan, an elevated CA-125 is highly suggestive of extra-ovarian endometriosis.
A day 1-3 oestrogen and follicle stimulating hormone (FSH) assay is another measure of ovarian reserve. For the FSH to be meaningful, the E2 should be less than 200 and an FSH less than 12 is desirable.
All these measures of ovarian reserve do not predict spontaneous fertility, but they may influence a patient's desire to move to assisted fertility.
When should a patient request referral to a specialist?
The decision to request a referral can be made on the basis of symptomatology alone, but is aided by the above investigations.
Women with asymptomatic infertility should be referred to an infertility specialist when basic investigations have been performed and a pregnancy has not occurred in a 12 month time period. This time to referral should be reduced when the patient is over 35 years of age.
Who to refer to?
It is ideal for a woman with endometriosis to be referred to an infertility specialist who has access to both ART and advanced surgery for endometriosis.
The decision about whether to use primary Assisted Reproductive Technologies (ART) or primary surgery can be very complex. In very symptomatic women, primary surgery offers a chance to improve their quality of life, and may also improve their chance of spontaneous fertility.
In asymptomatic women, a primary ART course should be considered, with advice to consider laparoscopy if they are not pregnant after two cycles.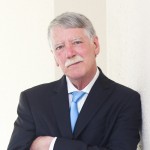 How does endometriosis cause infertility?
Current theory is that endometriotic implants produce a range of cytokines which adversely affect the endometrium and reduces embryo implantation. Removal of these implants therefore may be associated with improved embryo implantation.
What are the negative effects of surgery for endometriosis?
Surgical removal of ovarian endometriosis may have an adverse impact on future ovarian reserve.
Our data shows that removal of a unilateral endometrioma will cause, on average, around a 50% drop in AMH levels. Removal of bilateral endometriomas will cause, on average, around a 70% drop5.
About 50 per cent of women having removal of ovarian endometriosis will achieve a spontaneous pregnancy over a 12 months period (presuming they have patent Fallopian tubes and a partner with good quality sperm).
Of those who don't achieve a pregnancy, the ovarian surgery may have caused a catastrophic effect on the ovary's ability to respond to ovarian stimulation in an ART setting.
This is a dilemma and makes decisions about primary surgery very difficult.
 What can be done to protect ovarian reserve?
Nothing. Surgery in the best of hands may still result in severe compromise to ovarian reserve6.
This raises the concept of egg or embryo banking before surgery.
Egg freezing for those without a partner is a realistic option, with excellent outcomes being reported around the world7. Embryo freezing has been an established technology for a long time.
Banking either eggs or embryos is a realistic insurance policy for women in this unfortunate position.
When you deal with these women, and offer them the chance to preserve eggs or embryos for the future, they almost always decide to do so.
What can General Practitioners do for patients?
Take women with gynaecological symptoms seriously, and they will respect your care.
Ask them about their fertility worries as they may not volunteer their concerns.
Consider fertility preservation for patients with endometriosis.
References:
High prevalence of endometriosis in infertile women with normal ovulation and normospermic partners. Meuleman G, Vandenabeele B, et al. Fertil Steril. 2009 Jul; 92(1): 68-74
http://www.theguardian.com/society/2015/sep/28/im-not-a-hypochondriac-i-have-a-disease-all-these-things-that-are-wrong-with-me-are-real-they-are-endometriosis
Integrating the concept of advances gynaecological imaging for endometriosis. Menakaya UA, Adno A, et al. Aust NZ J Obstet Gynaecol. 2015 Oct; 55: 409-412
Decrease in AMH after laparoscopic excision of endometrioma. Rodgers R AGES XXIV Annual Scientific Meeting Sydney, NSW Australia
Laparoscopic stripping of endometrioma negatively affects ovarian follicular reserve even if performed by experienced surgeons. Biacchiardi CP, Plane LD, et al. Reprod Biomed Online. 2011; Dec 23(6): 740-746
Consistent and predictable delivery rates after oocyte vitrification: an observational longitudinal cohort multicenter study. Reinzi L, Cobo A, et al. Hum Reprod 2012; Jun 27(6): 1606 -1612
Dr Geoffrey D Reid
2015